Cheap Flights - Best Airfare Deals - Discount Airline Tickets
Buying a seat on an airplane isn't like buying a gallon of milk at the grocery store. At the grocery store, prices are clearly marked, and you and everyone else who passes through that store will pay the same price. A single airplane trip from point X to point Y, however, could easily vary in price by well over $100 or more, depending on when you travel, how far in advance you purchase your airline ticket, and how you purchase it. Naturally, using the discount travel coupons at 4TravelCoupons.com is a big way to save money, but there are various tips that help you score cheap flights.
Notice: This site has been shut down. For online coupons and promo codes for discount airfare and everything else, visit DailyeDeals.com.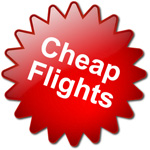 If you want to make sure you're getting the best price on airfare, be sure to follow as many of these ten easy steps as you can:
1. Shop Online

Always shop online for flights at deep discounts. These days, there's no need to visit a travel agent or spend hours calling airlines when you can directly search hundreds of flights with the click of a mouse. Convenient searches and discount fares are available through online travel agencies, and sometimes their low price fares are even cheaper when using travel coupons such as those listed on our site: Orbitz coupons, Travelocity coupons, Expedia coupons, Hotwire coupons and Priceline coupons.

2. Fly When Demand Is Lowest

Econ 101 teaches us that when demand drops, prices also drop. That's why you want to try to fly at a day and time when demand for flights is normally low. Airlines will reduce their fares to attempt to sell more seats at these times. So, if possible, fly when the demand for tickets is lowest. Choose a weekday. Mid-weekdays are best, as Mondays and Fridays are generally the most expensive days to fly. Avoid flying on most major holidays. However, some holidays are actually low demand times and may mean cheaper flights. For instance, few people travel on Christmas Day itself, and you may be able to secure discount tickets if you travel then instead of on Christmas Eve.

You can also often save by flying at odd hours of the night. Thus, when using an online travel agency, do not specify a specific time. Leave the time blank in order to find the cheapest flights. The "red-eye" flight is often cheaper because people are reluctant to drag themselves to the airport at 2 AM in the morning. But if you can wake yourself up, you may save big.

3. Keep Your Schedule Flexible

If possible, you should remain flexible not only about your departure and arrival time, but about the actual days you are willing to travel. Try doing a search a day earlier or a day later on the outgoing and return legs to see if a cheaper flight comes up. Many online travel agencies, such as Expedia, allow you to click "flexible dates" when you conduct your search. Travelocity also has the option of choosing "+/- 1 to 3 days" from the date you enter in the search form. Orbitz allows you to search simultaneously one day before and after the date you enter.

4. Be Willing to Include a Saturday Night Stay

Conventional wisdom says that most airlines will offer cheaper airfares if your trip includes a Saturday night stay at your destination. Departing on a Thursday and returning on a Sunday will usually be much less expensive than Departing on a Wednesday and returning on a Friday, for instance. Airlines do this to separate business and leisure travelers. Airlines know business travelers have to travel, so they'll be willing to pay higher fares. However, in recent years, many airlines have begun changing their Saturday night stay requirements, so be sure not to limit your search and instead check a variety of dates.

5. Search Well In Advance of Your Flight

As soon as you know you are going to travel, start searching! You can often secure special deals by making reservations in advance. Once flights begin to fill up, airlines may raise the rates.Even if you don't secure a great deal right away, searching early will allow you to track fares and watch to see if they fall.

Often 3, 7, 14, and 21 days before your departure are cutoff dates where prices rise and/or discounts are no longer available. If you need to travel at last minute, chances are that it is an important business trip or some type of emergency, and the traveller is not price sensitive for that trip. Air lines know this, so they want to sell full-fare tickets. Therefore you'll want to book your airline tickets before these deadlines for the best fares.

There are exceptions to this. When a flight's date is nearing and there are still a lot of empty seats, airlines will sometimes heavily discount them in order to fill them up. However, you'll be taking quite a risk if you wait until last minute hoping for one of these discount travel deals.

6. Search All Airlines

You will greatly enhance your chance of securing a low fare if you search all available airlines rather than selecting a specific airline. Online travel agencies will allow you to simultaneously search for flights on a variety of airlines, from United, American, and Northwest to Delta, Southwest, and US Airways. Most airlines offer similar amenities, and it may be worth it to forgo a favorite airline if you are saving scores of dollars.

7. Consider Layovers

It's very tempting to search only for non-stop flights, especially these days, when weaving your way through security at the airport can be such a hassle. However, non-stop flights are often more expensive because business travelers have tight schedules and are willing to pay more to maintain them. If you have time for a layover, you may find a less expensive flight by being willing to stop and switch planes. Decide how much the convenience of non-stop flight is worth to you and then check out fares with a layover.

8. Look For Age Specific Discounts

If you are over 65, you may be eligible for a senior discount on a flight. Be sure, when performing your search, to indicate your age. Most online airfare search engines have a mechanism to do this. There may also be special discounts for students and minors.

9. Compare Prices From Several Websites

When searching for a flight online at a travel agency such as Orbitz, you can choose to search for the lowest available fare. This, however, does not mean you are necessarily getting the cheapest flight available anywhere. Prices can vary from online agency to online agency at any given time because internet travel sites employ a central reservation system that is updated sporadically throughout the day. The major airlines input their prices and availability into four different central reservation databases, but these four systems are not all updated simultaneously. Consequently, different searches on different travel sites may yield different results. Try inputting the same arrival and departure dates into Travelocity, Orbitz, Expedia, Hotwire, Priceline, and other airfare search engines to see if you can get a cheaper rate on the same flight.

10. Take Advantage of Online Tools

Many of the online travel agencies have special tools you can use to find the lowest available fares.

If you are willing to be flexible about travel times and days, Expedia.com offers the Flight Fare Calendar, a calendar based tool that helps you determine the best date and hour for your trip. Just enter your departure location and destination, the number and age of travelers, and click search. The calendar returns the best prices recently found by Expedia customers. Similarly, Hotwire.com offers the Flexible Date Search. You tell Hotwire how long your trip is and give them a 30-day travel window. The site automatically finds all of the fares within that window in a single click. This saves a lot of search time, so that you aren't constantly backing up and changing your dates and times to find lower fares.

Some online travel agencies make it easy for you to track fares for particular flights, so that you can wait to book until your fare drops. For example, Expedia's Fare Tracker allows you to choose up to three air routes you would like to track. Expedia then posts your fares to the My Itineraries section of the website and send you a weekly e-mail containing fare changes. Travelocity's Fare Watcher personalized subscription service tracks the best round-trip fares published by the airlines for up to ten destinations at a time.
These tips for cheap flights along with our discount travel coupons will help you save with discount airline tickets for your vacations and business trips.
Travel Coupons: Expedia - Hotwire - Travelocity - Orbitz - Priceline
Car Rental Coupons: Avis - Budget - Dollar - Thrifty