Cheap Hotel Deals - Discount Lodges, Resorts, Motel Room Reservations
4TravelCoupons.com lists many cheap hotel deals and discount motel reservation offers. Why pay more if you can get discount rates and cheap prices on hotels, motels, resorts, lodges, and other accommodations? Afterall, it's hard to get a good night's sleep when you aren't satisfied with your room rate.
Browsing this site for online coupons and deals is a very important way to save money every time you book any travel reservations. However, if you want to slumber peacefully knowing you did everything you could to secure the lowest possible price on your hotel or motel room, read and consider these following money saving tips.
Notice: This site has been shut down. For online coupons and promo codes for hotel reservations and everything else, visit DailyeDeals.com.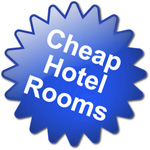 Shop Online

You'll be able to search room availability at multiple hotels simultaneously if you use an online travel agency such as Orbitz, Travelocity, Expedia, Hotwire, or Priceline. These websites offer deep discounts on motel and hotel lodgings and enable you to compare prices for the same dates and city. You can search by hotel quality, for a room at a specific chain, or in a general area. You can even search hotels by the amenities they offer or find hotels within a specific price range that you input. In a matter of moments, these travel websites will comb a wide swathe of rooms at hotels ranging from Econo Lodge, Holiday Inn, and La Quinta to the Sheraton, Raddison, and the Hilton.

Sometimes these online travel sites like Expedia.com, Orbitz.com and Hotwire.com offer promotion codes, online coupons and other discount offers. Therefore starting your travel search at 4TravelCoupons.com is always a good idea, as we list the coupon code, promo deals and special promotions for these travel services. These are some of the most popular pages: Travelocity.com coupons, Orbitz.com coupons, Expedia.com coupons, Hotwire.com coupons and Priceline.com coupons.

Book During the Off Season

The rates for the same room can vary greatly depending on the time of year you visit. The law of supply and demand tells us that when demand for hotel rooms drop, so too do the prices. Hotels and motels will often cut their rates dramatically during the off season to encourage visitors to book a room. So, if you're planning a vacation, consider the "season less traveled in," and that, to paraphrase Robert Frost, might "make all the difference." Indeed, booking at off peak times could potentially save you hundreds of dollars in the course of a long stay. If you're visiting the tropics, summer is a better time to book. If your visiting a major city in the U.S., avoid times when there are big conventions being held.

Book During Off Days

If possible, book on a day or days when demand for rooms at your hotel of interest is lowest. This may vary from hotel to hotel, depending on whether it caters to tourists or business travelers. If the hotel caters to tourists, avoid checking in on weekends. Because weekends are heavy tourist times, the hotels can afford to charge more on Friday and Saturday nights while still retaining customers. You're likely to get a lower rate Monday through Thursday. If, on the other hand, the hotel normally maintains a business clientele, you'll actually save by staying on the weekends, as most business travel occurs during the week.

Don't Overlook Association Discounts

If you are a member of any association, such as AAA or the AARP, don't forget to check if there is a special discount available to you. If you are unable to input this association information when you reserve through an internet travel agency, call the hotel after booking online or present your association card at check-in to see if you can possibly get an additional discount on top of the savings you secured from the travel website.

Consider a Lower Hotel Rating

Do you want to stay at a four-star hotel? Keep in mind that ratings may vary from travel website to travel website. Orbitz might give one hotel only three stars while another website, such as Expedia, gives it four. Consider searching for both three and four star hotels and then comparing the hotel ratings on various websites to see if the hotel meets your standards. Broadening your search in this way may return a lower rate for a room at a good hotel.

Consider a Package

Especially if you are traveling for leisure, a hotel package may enable you to save money on your room. Online travel agencies will often bundle your hotel with airfare for a discount. For luxury hotels, you can often bundle your hotel room reservation with free meals or use of the hotel's spa. If you are planning to use these amenities anyway, check to see if you can save by purchasing them as part of a vacation package that includes a room reservation.

Compare Prices

Don't assume that the lowest price available on one website is the lowest price available for that hotel room anywhere. Once you've found the room you want to book, use a variety of travel search engines to check the rate they each offer on that room. Once you've found the lowest rate you possibly can, if you're willing to take a bit of a gamble, you might try Priceline's "Name Your Own Price" service. Input a price slightly lower than the lowest rate you uncovered, choose a star rating equal to that of the hotel you wanted to book, and input the same city. You might just end up with the same hotel or a very similar hotel at a lower rate. However, this is not a good idea if you have a specific preference for hotel or a precise location within the city where you wish to stay.

It Doesn't Hurt to Ask

If you arrive at your hotel and find it is not filled anywhere near to capacity, you might venture to request an upgrade for the same price. Since the hotel rooms are sitting empty anyway, the clerk may be willing to grant you a larger room with more amenities. It's certainly worth a try.

Use the Right Credit Card

Some travel websites and some individual hotel chains offer special deals in conjunction with credit card companies. If you use a specific credit card, you can save additional money, as much as $50 or more, on your reservation. Be sure to check the various websites to see if there are any special deals or promotions currently running involving the use of a specific credit card before you book what you think is the lowest rate.
Travel Coupons: Expedia - Hotwire - Travelocity - Orbitz - Priceline
Car Rental Coupons: Avis - Budget - Dollar - Thrifty