Visit the Country of Georgia - T'bilisi, Batumi, Cave City, Sioni Cathedral Church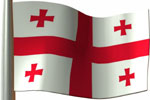 Although the summers in the coastal region of Georgia can be quite warm, Georgia undergoes some very cold winter temperatures. The official language of this country is German. However, Russian, Azeri, and Armenian are also spoken. The majority of Georgia's residents practice the Georgian Orthodox Religion. Its official currency is the Lari.
Georgia's Capital city is T'bilisi. From its historical monuments to its distinctive theaters, T'bilisi offers exciting moments for sightseeing. One of the most famous of its exhibits is the Sioni Cathedral Church that dates back to the 5th century. T'bilisi History Museum is located in the center of T'bilisi. Its exhibits include an extensive array of photographs, weaponry, and artwork.
Cave City began as a military fortification, but developed into a religious compound. Tours through this maze of caves are available. Sveti-Tskhoveli Cathedral dates back to the 11th century. Its size is impressive. Many kings from Georgia's past have their final resting place here.
Batumi is situated along the Black Sea. It began as a trading port that has since developed into an industrial center. Entertainment facilities and the beauty of its native flora are only two of the many reasons to visit this locale.
More Destinations: