Vacation in Tonga - South Pacific Tropical Islands, Nuku'alofa, Tongatapu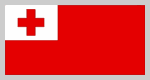 The official name of Tonga is the Kingdom of Tonga, and it is a cluster of islands in the southern Pacific Ocean. It is between Hawaii and New Zealand, with Samoa to the north and Fiji to the west. The official language is Tonga, although English is widely spoken as well. The official currency is the Pa'anga. Tropical weather provides comfortable days outside.
Its capital city is Nuku'alofa, which faces the Pacific Ocean. Currently it is undergoing a spurt of growth. Sadly, this population explosion is taking up the space that was once covered by wetlands. Oddly enough, just about every building is closed to the public on Sundays with the exception of the church.
The Basilica of St. Anthony of Padua should be a must on anyone's list of places to see. Within its walls, one can see the intricately carved Stations of the Cross. They are carved into coconut wood and patterned with mother of pearl.
The Tongan National Center contains historical artifacts, cultural displays, and traditional carvings. Tours include demonstrations of some of the local skills including weaving, tapa making, carving, basketry and dancing.
Along the southern shore of Tongatapu, one can find a series of blowholes, known as Mapu'a 'a Vaca Blowholes. The name translates to "chief's whistles." On windy days during high tide, the seawater is forced up through the coral limestone in geyser-like sprays.
If you like tropical beaches, check out the popular Masiata Beach and Picnic Area in Kolovai, a village in the Western District of Tongatapu. Kolovai is also home to magnificent views of sunrises to the east and sunsets to the west.
More Destinations: