Visit the Falkland Islands - Stanley, Christ Church Cathedral, Sea Lion Island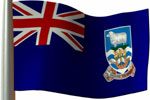 The Falkland Islands are primarily British in everything, even though they are located next to South America in the South Atlantic Ocean. Although the summers here can produce intense sunshine, they tend to be cool. On the other hand, the winters have a distinct tendency to be cold.
The official name of the Falkland Islands is the Overseas Territory of the Falkland Islands. There are 2 main islands, East Falkland and West Falkland, along with 776 small islands. The official language is English. The official currency is the Falkland Pound.
Its capital city is Stanley, which was formerly known as Port Stanley. The governors here are pointed in London. They reside in the Government House, which is open to visitors. A quaint village, Port Stanley offers comfort and charm. On Ross Road is the Christ Church Cathedral, which was consecrated in 1892. It is famous for being the southernmost cathedral in the world, and for its whalebone arch that was constructed with the jaws of two blue wales.
Port Louis has its roots with the French settlers of the area. It is most likely the oldest settlement in the islands. Historical ruins include the governor's house, farmhouses, and homes from the earliest of the French settlements.
Volunteer Beach in East Falkland is home to several hundred king penguins. Also, in East Falkland, you can see Sea Lion Island, which is teeming with interesting wildlife.
In West Falkland, small farms and communities are numerous. New Island can also be found in West Falkland. It features two different nature reserves that offer sightings of many different species of animals and birds.
More Destinations: