Visit San Marino - Palazzo Publico, The Guaita (La Rocca), The State Museum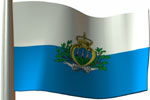 San Marino's official title, The Most Serene Republic of San Marino, is a bit long considering the size of this republic. It is the third smallest nation in Europe (only Monaco and Vatican City are smaller), and its capital city bears the same name, San Marino.
The majority of the resident population speaks Italian and is Roman Catholic. The euro is the republic's currency.
Dating back to the late 1800s, the Palazzo Publico is a firm structure put together by large pieces of carefully and decoratively carved rock. Be sure to look in every nook, cranny, and crevice to catch a glimpse of each of the busts that are scattered throughout the place.
This magnificent structure sits upon ground that was once used for a communal house back in the late 1300s.
The Guaita is sometimes referred to as La Rocca or the First Tower. It is one of three defensive towers that overlook San Marino. Used as a guard tower back in the 11th century, La Rocca displays the coat of arms for San Marino. One of the fascinating things about La Rocca is the simple fact that it was hewn straight from rock. Two must see aspects of this place are its bell tower and penance tower.
The State Museum showcases exhibits from outside of the republic as well as some that belong to the republic. The museum is small, but nonetheless, interesting.
More Destinations: