Road Trips: Taking Breaks Along the Way
Family vacations are supposed to be relaxing, stress-free, and enjoyable, so instead of rushing to reach your destination, take the time to stop along the way. Breaks enable family members to stretch their legs, use restroom facilities, and enjoy refreshing drinks or snacks. Periodically stopping will keep everyone happy, and your vacation will be peaceful and pleasant.
Stopping at locations that are safe is of the utmost importance when traveling, and cleanliness is also essential when choosing places to stop. There are several factors to consider when thinking about taking a breather when on a road trip, and the following tips will help you decide on the best places to take breaks while traveling.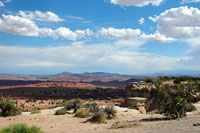 Fast Food Restaurants
If you're traveling with kids, some of the best places to stop are fast food restaurants. Many fast food restaurants are equipped with indoor play areas, and they are a great place for kids to burn off pent-up energy. For the price of a few beverages, or inexpensive meals or snacks, adults can stretch their legs while kids enjoy the play area.
Truck Stops
Don't let the stigma of trucks stops fool you. Many major truck stops these days are very clean, and they offer everything from hearty meals to travel necessities and souvenirs. They're usually very busy, and they're generally very safe places to stop for breaks while traveling. Although they cater to the needs of truck drivers, truck stops also have a lot to offer to travelers and vacationers.
Rest Stops
Rest stops generally offer clean restroom facilities, maps, entertainment brochures, vending machines, and picnic tables, but they aren't always the best places to stop. If you consider pulling off at the next rest stop, keep on going if the parking lot is nearly empty or if it isn't well lit during evening hours. Criminals sometimes target rest stops that aren't very busy, and areas that aren't lit up at night.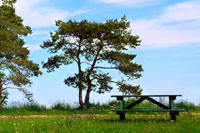 Parks
Weather permitting, public parks are excellent places to stop for breaks while traveling. They provide plenty of areas for walking and stretching the legs, and most offer playground equipment for children and picnic tables for dining in the great outdoors. Stop at a public park to enjoy a picnic lunch or snack while taking a break from your road trip and you might even enjoy a scenic view or a special point of interest. Avoid parks that are isolated or vacant, and keep safety in mind when taking breaks along the way.
More Travel Tips: