Road Trips: Space-Saving Packing Tips
If you're like most people, you want to make sure you have everything you'll need when planning a road trip, but space is generally limited, especially when traveling with family members. You don't have to rent a cargo trailer, and you don't have to go on vacation without all of the items you need. There are clever ways to save space while packing, and with the following space-saving packing tips, you'll have all you need for your next road trip, and you won't have to sacrifice comfort for space.
Laundry Service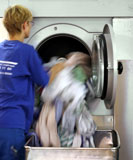 If you plan on staying in a hotel that offers laundry service, or a motel with self-serve laundry facilities, consider washing your clothes at least once while on your trip. The price you'll pay is definitely worth the space you'll save. You'll be able to pack much lighter for each family member if you don't have to take along a clean outfit for every day of your vacation.
Make a List
People tend to pack too much when planning a road trip because they're afraid they won't have enough to wear. Instead of mindlessly packing suitcases and inadvertently taking more than you'll actually need, make a list of what you must have before beginning to pack. As each item is packed, check it off from the list so you don't end up packing more than you require. Otherwise, you might not remember what you've packed, and you may find yourself wasting valuable time unpacking and repacking suitcases, or you might leave something important behind.
Coordinate Clothing
If you and other family members can get by without changing your entire outfit each and every day, take along clothing that's color-coordinated. Unless you plan a road trip that includes rock climbing, fishing, or other activities that will dirty your clothes, everyone should be able to wear casual pants more than once. If family members don't mind wearing each pair of pants one additional time before tossing them into the wash, you can easily pair them with other articles of clothing, and your outfits will still match. With careful planning, everyone will save a considerable amount of space in his or her suitcase.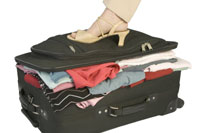 Save Space in Your Suitcase
Neatly folding your clothes and placing them in your suitcase isn't going to save space. When packing your suitcase, take advantage of every extra nook and cranny. Place pairs of clean socks inside shoes, and don't forget to take advantage of exterior and interior zippered pockets. Also, neatly rolling up t-shirts and casual pants instead of folding them can save a great deal of space when using a soft-sided bag.
Toiletries
If you're planning a seven-day road trip, why take enough shampoo, conditioner, and other toiletries to last an entire month? If the place you're staying provides complimentary samples of soap, shampoo, and conditioner, you won't have to pack any of these items. If possible, call in advance to find out what's provided, and if these items aren't available, buy space-saving sample-size products especially for your road trip.
More Travel Tips: