Road Trips: Tips on Traveling With Kids
All parents know that traveling with kids isn't always a pleasurable experience. After traveling for an extended period of time, kids become bored and problems arise. Some kids begin repeating the familiar phrase, "Are we there yet?" Others begin whining, crying, or even fighting with siblings, and the trip becomes anything but relaxing. The adults spend more time making idle threats and turning around to see what's going on in the back seat than enjoying the ride or the scenery.
Traveling with kids doesn't have to be a stressful and unpleasant experience. You can enjoy traveling with your family, but you must provide kids with fun distractions and interesting activities. There are a number of ways to keep everyone happy no matter how far you must travel. Plan ahead, consider the following tips and suggestions, and road trips with kids can be fun and stress-free for the entire family.
Travel Rewards
Everyone loves rewards and prizes, especially kids, and there's nothing wrong with using a little bribery now and then. Before your next road trip, gather a container of small wrapped prizes to pass out as rewards along the way. The prizes can be anything from small toys to tasty treats, and they don't have to cost very much. The kids will look forward to the prizes, and hopefully they'll behave better in anticipation of receiving a reward. Not to mention, the rewards will help occupy their time.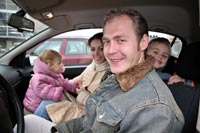 Healthy Snack Ideas
No one wants to find crumbs, spills, or other messes in their vehicle, but when taking long road trips with kids, snacks are necessary. Snacks satisfy hunger in between meals, and they're fun to eat. You can provide your kids with healthy snacks that will satisfy their hunger without making a mess in your vehicle.
Consider bringing vitamin-enriched fruit snacks. They aren't crumbly or sticky, and they're healthy and filling. Fruit snacks of many different varieties are available in individual packages, and they're fun treats that are perfect for taking on road trips.
Other healthy finger foods such as dried fruits, nuts, and cheese sticks are also great snacks for road trips. Purchase string cheese or individually wrapped sticks of cheddar or Monterrey jack cheese, and keep them within reach in a small cooler. In advance, prepare individual servings of dried fruit, vitamin-fortified dry cereal, and nuts, and pass them out at snack time.
In addition to healthy snacks, be sure to pack healthy thirst-quenching drinks. Provide younger kids with spill-proof cups, and for older kids bring along bottled drinks with twist-up tops to help prevent spills Choose vitamin-enriched fruit drinks or water, and keep them cold in a small travel cooler until ready to drink.
Backseat Activities
Kids of all ages require entertaining activities, especially when forced to sit still for extended periods of time. Invest in a couple of clear shoe bags to hang over the back of vehicle headrests. Kids can fill the pockets with their favorite games and activities. Your vehicle will stay free of clutter, and the kids will be able to easily see and reach the contents of their activity bags.
Encourage your kids to bring items such as handheld games, action figures, sliding puzzles, and other small toys. They'll have plenty to do, and each child will have their own activity pack containing their personal favorites. They can also use their shoe bags to hold bottled drinks, snacks, and other necessities.
Travel in Comfort
There's nothing worse than wanting to take a nap while traveling and not having anything to rest against. Trying to sleep in an upright position isn't restful or relaxing. Provide your kids with travel-size pillows for napping. Travel pillows don't take up a lot of room, and kids can easily rest their heads and catch a relaxing nap whenever they want.
Purchase travel pillows and washable pillowcases before your next family road trip. When your kids need a nap, they'll be able to rest in comfort with their very own pillow. Those who need a nap will wake up in a much better mood if they are able to travel comfortably and sleep when necessary.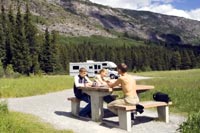 Break Time
Don't plan on taking a long-distance family road trip without stopping at some point along the way. Many people want to reach their destination as quickly as possible, and they refuse to take breaks. When traveling with kids it's necessary to periodically stop for bathroom breaks, and it's beneficial to stretch the muscles.
Plan on stopping approximately every two hours or more often when providing snacks and drinks. Adults as well as kids will be more likely to remain content if they are able to stretch their legs, and as a result, everyone will be happier and more comfortable. Refusing to stop in order to get somewhere a few minutes sooner isn't worth any amount of discomfort when traveling with kids.
More Travel Tips: